About Us
High Park Fish & Chips is a Chinese takeaway in Southport. Why don't you try our Special Szechuan or Vegetable Curry?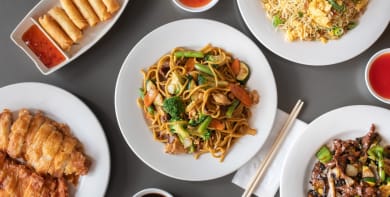 Reviews
981 reviews
Leanne
"Excellent food quick delivery. Crispy chilli beef spot on. Well done guys"
28/02/2021
Geoff
"Excellent food, reasonably priced & nice and hot, what more can you ask?"
26/02/2021
Lewis
"Arrived 35 minutes early which is great. Previous orders have been late so this was great"
26/02/2021
Ed
"Food was very tasty and stayed hot. Really good"
23/02/2021
Menu
Dinner A (Minimum of 2 Persons)
£11.00 Per Head
Chicken & Sweetcorn Soup, Prawn Crackers, Barbeque Spare Ribs, Sweet and Sour Pork, Chicken with Cashewnuts, Egg Fried Rice
   Get an extra meal if you order for 3 or 4 People
For 3 or More People - Beef  with Green Peppers in Blackbean Sauce
For 4 or More People - King Prawn Kung Po (Hot)
£11.00
Dinner B (Minimum 2 Persons)
£13.00 Per Head
Chicken & Sweetcorn Soup, Prawn Crackers, Kim-Do Ribs, Spring Rolls, Char Siu Kung Po (Hot), Chicken in Oyster Sauce, Stir Fried Mixed Vegetables, Yeung Chow Fried Rice
  Get an extra meal if you order for 3 or 4 People
For 3 or More People - King Prawn with Cashewnuts
For 4 or More People - Duck with Green Peppers in Blackbean Sauce
£13.00
Dinner C (Minimum of 2 Persons)
£15.50 Per Head
Chicken & sweetcorn soup, prawn crackers, kim-do ribs, spring rolls, aromatic crispy duck, cantonese style steak with cashewnuts, chicken with pineapple, stir fried mixed vegetables, yeung chow fried rice
Get an extra meal if you order for 3 or 4 People
For 3 or more people - king prawn with green peppers in blackbean sauce
For 4 or more people - char siu with mushrooms
£15.50
Chicken Curry
Hot & spicy
£8.50
Special Kung Po
Hot & Spicy
£6.80
Chicken Kung Po
Hot & Spicy
£6.00
King Prawn Kung Po
Hot & Spicy
£6.50
Prawn Kung Po
Hot & Spicy
£6.20
Char Siu Kung Po
Hot & Spicy
£6.00
Vegetable Kung Po
Hot & Spicy
£5.80
Red Bull Energy Drink - 250ml
£1.99
American Burger With Chips
£3.70
American Cheese Burger - Regular
£3.30
American Cheeseburger - With Chips
£3.80
Chicken Burger With Chips
£3.80
Singapore Chow Mein
Hot & spicy
£6.50
Curry Chicken Chow Mein
Hot & spicy
£6.80
Mixed Vegetables Chow Mein
£5.80
Special Ginger & Spring Onion
£6.80
Chicken Ginger & Spring Onion
£6.00
Beef Ginger & Spring Onion
£6.00
King Prawn Ginger & Spring Onion
£6.50
Prawn Ginger & Spring Onion
£6.20
Char Siu Ginger & Spring Onion
£6.00
Special Garlic Chilli
Hot & Spicy
£6.80
Chicken Garlic Chilli
Hot & Spicy
£6.00
Beef Garlic Chilli
Hot & Spicy
£6.00
King Prawn Garlic Chilli
Hot & Spicy
£6.50
Prawn Garlic Chilli
Hot & Spicy
£6.20
Char Siu Garlic Chilli
Hot & Spicy
£6.00
Vegetable Garlic Chilli
Hot & Spicy
£5.80
Special Satay
Hot & Spicy
£6.80
Chicken Satay
Hot & Spicy
£6.00
King Prawn Satay
Hot & Spicy
£6.50
Char Siu Satay
Hot & Spicy
£6.00
Vegetable Satay
Hot & Spicy
£5.80
Singapore Fried Rice
Hot & spicy
£6.50
Special Starters Combination
BBQ ribs, chicken wings, spring rolls, crispy won tons & prawns on toast
£8.50
Spare Ribs in Barbeque Sauce
£5.80
Spare Ribs in Peking Sauce
£5.80
Spare Ribs in Kim-Do Sauce
£5.80
Spare Ribs with Salt & Pepper
Hot & spicy
£5.80
Thai Honey Chilli Ribs
Must try
Hot & spicy
£6.20
Vegetable Spring Rolls (6)
£3.00
Deep Fried Crispy Won Tons (6)
£3.20
Curry Samosas (4)
Hot & spicy
£3.20
Kim-Do Deep Fried Chicken Wings
£5.30
Barbeque Deep Fried Chicken Wings
£5.30
Salt & Pepper Deep Fried Chicken Wings
Hot & spicy
£5.30
Salt & Pepper Sui Mai
Hot & spicy
£4.80
Quarter Aromatic Crispy Duck
With sauce, trimmings & pancakes
£8.00
Half Aromatic Crispy Duck
With sauce, trimmings & pancakes
£15.00
Shredded Crispy Chilli Beef
Hot & spicy
£6.50
Crispy Chilli Chicken
Hot & spicy
£6.50
Shredded Beef Kim-Do Sauce
£6.50
Shredded Chicken Kim-Do Sauce
£6.50
Chicken in Yellow Bean Sauce
£6.50
King Prawn in Yellow Bean Sauce
£6.80
Braised Chicken & Char Siu in Oyster Sauce
£6.50
Steak with Ginger & Spring Onion
£7.00
Steak in Black Pepper Sauce
Hot & spicy
£7.00
Roast Duck Cantonese Style
£7.00
Roast Duck in Lemon Sauce
£6.80
Salt & Pepper King Prawns
Hot & spicy
£6.50
Salt & Pepper Chicken
Hot & spicy
£6.20
Salt & Pepper Squid
Hot & spicy
£6.50
Four Season
Sauteed ducking, king prawns, char siu & chicken with seasonal vegetables
£7.00
Thai Green Curry Chicken
Hot & spicy
£6.80
Thai Green Curry Beef
Hot & spicy
£6.80
Thai Green Curry Roast Pork
Hot & spicy
£6.80
Thai Red Curry Chicken
Hot & spicy
£6.80
Thai Red Curry Beef
Hot & spicy
£6.80
Thai Red Curry Roast Pork
Hot & spicy
£6.80
Salt & Pepper Box
Hot & Spicy
Including chicken wings, chicken pieces, ribs, battered mushrooms, battered sausages, chips
£14.50
Mini Salt & Pepper Box
Including Shedded Chicken, Sui mai, Chicken Wings, Ribs, Chips
£9.00
Salt and Pepper Shredded Beef
£6.50
Salt and Pepper Shredded Chicken
£6.50
Special Sweet and Sour Dish
£6.80
Chocolate Fudge Brownie - 500ml
£6.00
Salt & Pepper Chips Small
Hot & spicy
£2.80
Salt & Pepper Chips Large
Hot & spicy
£3.60
1/2 Boiled Rice, 1/2 Chips with Curry Small
Hot & spicy
£3.50
1/2 Boiled Rice, 1/2 Chips with Curry Large
Hot & spicy
£4.00
1/2 Boiled Rice, 1/2 Chips with Gravy Small
£3.50
1/2 Boiled Rice, 1/2 Chips with Gravy Large
£4.00
1/2 Fried Rice, 1/2 Chips with Curry Small
Hot & spicy
£4.00
1/2 Fried Rice, 1/2 Chips with Curry Large
Hot & spicy
£4.50
1/2 Fried Rice, 1/2 Chips with Gravy Small
£4.00
1/2 Fried Rice, 1/2 Chips with Gravy Large
£4.50
Bamboo Shoots & Water Chestnuts
£3.50
Soft Noodles & Beansprouts
£3.50
Crab Meat & Sweetcorn Soup
£2.80
Special Curry
Hot & Spicy
£6.80
Chicken Curry
Hot & Spicy
£6.00
King Prawn Curry
Hot & Spicy
£6.50
Char Siu Curry
Hot & Spicy
£6.00
Vegetable Curry
Hot & Spicy
£5.80
Contact Us
Find Us
122 Bispham Road, Southport, PR97BJ