About Us
High Park Fish & Chips is a Chinese takeaway in Southport. Why don't you try our Special Szechuan or Vegetable Curry?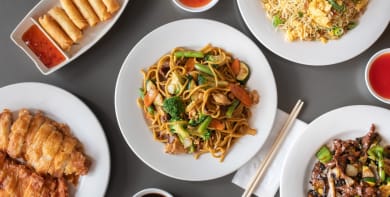 Reviews
1014 reviews
Syed
"Really good food, great service"
16/04/2021
Joanne
"Absolutely delicious food, delivered really quickly."
16/04/2021
Ian
"Forgot drinks!!!! Food was nice but the rice was dryer than ghandis flip flops"
16/04/2021
smerrills
"Food was delivered 5 mins early, completely Covid safe. Food was piping hot and tasted fab Thanks X"
14/04/2021
Menu
Dinner A (Minimum of 2 Persons)
£11.00 Per Head
Chicken & Sweetcorn Soup, Prawn Crackers, Barbeque Spare Ribs, Sweet and Sour Pork, Chicken with Cashewnuts, Egg Fried Rice
   Get an extra meal if you order for 3 or 4 People
For 3 or More People - Beef  with Green Peppers in Blackbean Sauce
For 4 or More People - King Prawn Kung Po (Hot)
£11.00
Dinner B (Minimum 2 Persons)
£13.00 Per Head
Chicken & Sweetcorn Soup, Prawn Crackers, Kim-Do Ribs, Spring Rolls, Char Siu Kung Po (Hot), Chicken in Oyster Sauce, Stir Fried Mixed Vegetables, Yeung Chow Fried Rice
  Get an extra meal if you order for 3 or 4 People
For 3 or More People - King Prawn with Cashewnuts
For 4 or More People - Duck with Green Peppers in Blackbean Sauce
£13.00
Dinner C (Minimum of 2 Persons)
£15.50 Per Head
Chicken & sweetcorn soup, prawn crackers, kim-do ribs, spring rolls, aromatic crispy duck, cantonese style steak with cashewnuts, chicken with pineapple, stir fried mixed vegetables, yeung chow fried rice
Get an extra meal if you order for 3 or 4 People
For 3 or more people - king prawn with green peppers in blackbean sauce
For 4 or more people - char siu with mushrooms
£15.50
Chicken Curry
Hot & spicy
£8.50
Special Kung Po
Hot & Spicy
£6.80
Chicken Kung Po
Hot & Spicy
£6.00
King Prawn Kung Po
Hot & Spicy
£6.50
Prawn Kung Po
Hot & Spicy
£6.20
Char Siu Kung Po
Hot & Spicy
£6.00
Vegetable Kung Po
Hot & Spicy
£5.80
American Burger With Chips
£3.70
American Cheese Burger - Regular
£3.30
American Cheeseburger - With Chips
£3.80
Chicken Burger With Chips
£3.80
Fish Dinner
Includes fish(cod) chips, peas and gravy
£6.50
Singapore Chow Mein
Hot & spicy
£6.50
Curry Chicken Chow Mein
Hot & spicy
£6.80
Mixed Vegetables Chow Mein
£5.80
Special Ginger & Spring Onion
£6.80
Chicken Ginger & Spring Onion
£6.00
Beef Ginger & Spring Onion
£6.00
King Prawn Ginger & Spring Onion
£6.50
Prawn Ginger & Spring Onion
£6.20
Char Siu Ginger & Spring Onion
£6.00
Special Garlic Chilli
Hot & Spicy
£6.80
Chicken Garlic Chilli
Hot & Spicy
£6.00
Beef Garlic Chilli
Hot & Spicy
£6.00
King Prawn Garlic Chilli
Hot & Spicy
£6.50
Prawn Garlic Chilli
Hot & Spicy
£6.20
Char Siu Garlic Chilli
Hot & Spicy
£6.00
Vegetable Garlic Chilli
Hot & Spicy
£5.80
Special Satay
Hot & Spicy
£6.80
Chicken Satay
Hot & Spicy
£6.00
King Prawn Satay
Hot & Spicy
£6.50
Char Siu Satay
Hot & Spicy
£6.00
Vegetable Satay
Hot & Spicy
£5.80
Singapore Fried Rice
Hot & spicy
£6.50
Special Starters Combination
BBQ ribs, chicken wings, spring rolls, crispy won tons & prawns on toast
£8.50
Spare Ribs in Barbeque Sauce
£5.80
Spare Ribs in Peking Sauce
£5.80
Spare Ribs in Kim-Do Sauce
£5.80
Spare Ribs with Salt & Pepper
Hot & spicy
£5.80
Thai Honey Chilli Ribs
Must try
Hot & spicy
£6.20
Vegetable Spring Rolls (6)
£3.00
Deep Fried Crispy Won Tons (6)
£3.20
Curry Samosas (4)
Hot & spicy
£3.20
Kim-Do Deep Fried Chicken Wings
£5.30
Barbeque Deep Fried Chicken Wings
£5.30
Salt & Pepper Deep Fried Chicken Wings
Hot & spicy
£5.30
Salt & Pepper Sui Mai
Hot & spicy
£4.80
Quarter Aromatic Crispy Duck
With sauce, trimmings & pancakes
£8.00
Half Aromatic Crispy Duck
With sauce, trimmings & pancakes
£15.00
Thai Honey Chilli Wings
Must try
£6.20
Shredded Crispy Chilli Beef
Hot & spicy
£6.50
Crispy Chilli Chicken
Hot & spicy
£6.50
Shredded Beef Kim-Do Sauce
£6.50
Shredded Chicken Kim-Do Sauce
£6.50
Chicken in Yellow Bean Sauce
£6.50
King Prawn in Yellow Bean Sauce
£6.80
Braised Chicken & Char Siu in Oyster Sauce
£6.50
Steak with Ginger & Spring Onion
£7.00
Steak in Black Pepper Sauce
Hot & spicy
£7.00
Roast Duck Cantonese Style
£7.00
Roast Duck in Lemon Sauce
£6.80
Salt & Pepper King Prawns
Hot & spicy
£6.50
Salt & Pepper Chicken
Hot & spicy
£6.20
Salt & Pepper Squid
Hot & spicy
£6.50
Four Season
Sauteed ducking, king prawns, char siu & chicken with seasonal vegetables
£7.00
Thai Green Curry Chicken
Hot & spicy
£6.80
Thai Green Curry Beef
Hot & spicy
£6.80
Thai Green Curry Roast Pork
Hot & spicy
£6.80
Thai Red Curry Chicken
Hot & spicy
£6.80
Thai Red Curry Beef
Hot & spicy
£6.80
Thai Red Curry Roast Pork
Hot & spicy
£6.80
Salt & Pepper Box
Hot & Spicy
Including chicken wings, chicken pieces, ribs, battered mushrooms, battered sausages, chips
£14.50
Mini Salt & Pepper Box
Including Shedded Chicken, Sui mai, Chicken Wings, Ribs, Chips
£9.00
Salt and Pepper Shredded Beef
£6.50
Salt and Pepper Shredded Chicken
£6.50
Special Sweet and Sour Dish
£6.80
Chocolate Fudge Brownie - 500ml
£6.00
Salt & Pepper Chips Small
Hot & spicy
£2.80
Salt & Pepper Chips Large
Hot & spicy
£3.60
1/2 Boiled Rice, 1/2 Chips with Curry Small
Hot & spicy
£3.50
1/2 Boiled Rice, 1/2 Chips with Curry Large
Hot & spicy
£4.00
1/2 Boiled Rice, 1/2 Chips with Gravy Small
£3.50
1/2 Boiled Rice, 1/2 Chips with Gravy Large
£4.00
1/2 Fried Rice, 1/2 Chips with Curry Small
Hot & spicy
£4.00
1/2 Fried Rice, 1/2 Chips with Curry Large
Hot & spicy
£4.50
1/2 Fried Rice, 1/2 Chips with Gravy Small
£4.00
1/2 Fried Rice, 1/2 Chips with Gravy Large
£4.50
Bamboo Shoots & Water Chestnuts
£3.50
Soft Noodles & Beansprouts
£3.50
Crab Meat & Sweetcorn Soup
£2.80
Special Curry
Hot & Spicy
£6.80
Chicken Curry
Hot & Spicy
£6.00
King Prawn Curry
Hot & Spicy
£6.50
Char Siu Curry
Hot & Spicy
£6.00
Vegetable Curry
Hot & Spicy
£5.80
Contact Us
Find Us
122 Bispham Road, Southport, PR97BJ